OS4Xvirtual
For virtualized environments, OS4X comes pre-installed on a virtual machine, ready to run. It's free!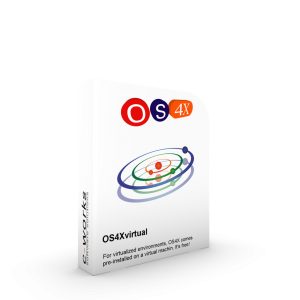 In order to start with OFTP2 very fast, the free-to-download OS4X installation on a virtualized machine offers everything you need. Setting up OS4X has never been easier. With support for various virtualization solutions (such as VMWare's Player, ESX(i) server, vSphere, or non-VMWare-products like Parallels Desktop) you can integrate or verify OS4X in your environment without hardware investments.
Target audience
OS4Xvirtual is a ready-to-run solution for anybody, including:
Customers who need an OFTP2 solution instantly.
Testers who want to verify if OS4X works in their environment.
System administrators who want to extend the value of their existing virtualized environment.
Customers who don't to fulfill all system requirements in a separate installation.
Main features
This virtualized appliance contains the following features:
Standard Debian 12 with latest updates.
All system requirements fulfilled for OS4X.
Latest installation of OS4X, ready to start with the configuration wizard.
Webmin: web-based system administration (i.e. for mounting filesystems, setting up networking, manage users and authentification etc.).
Ready to connect to ISDN network via RemoteCAPI devices.