OS4X EDI converter
If you need to convert EDI files from one format to another, we have a solution: OS4X online EDI converter plugin.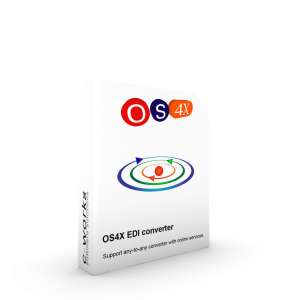 For OS4X Enterprise, we offer a cost-effective solution for adapting an online EDI converter plugin which is capable to convert any to any format. Depending on your needs, the converter can translate your EDI formats from and to any required specification.
EDIFACT to VDA formats? ANSI X.12 to PDF? Excel to DELFOR? No matter which conversion you need, the OS4X online EDI converter plugin will solve it. Reliable, fast, stable, performant.
If you need changes to the converter, you are free to order changes without impacting existing other converters. There exist no dependencies against other converters or systems.
Two modes are available:
Convert from any to any given format, directly and without compromise.
Convert from any format to a meta format; convert from meta format to any destination format. This mode may be interesting when conversion from various to various formats is required.
Main features
Seamless integration as an OS4X Enterprise plugin.
Powerful conversion capabilities according to your specification.
Certified transmission protocols and service provision according to ISO/IEC 27001.
High-available solution.
Secured communication via https with your existing OFTP2 certificate, both client and server protected.
No "per-document" payment.
Approved by over 500 million document conversions per year.
Benefit from special pricing for OS4X Enterprise customers, save up to 50% against competition!
Much cheaper than an in-house converter solution, due to missing license costs.