OS4X Enterprise
Unlimited enterprise job-based ENGDAT and EDI OFTP2 data exchange with multiple protocol support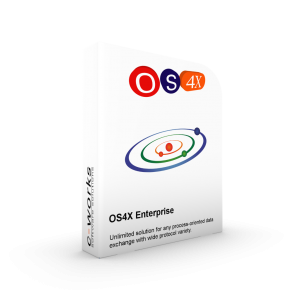 OS4X Enterprise brings you everything you need for ENGDAT based data exchange with automated processes. It offers you many plugins (like support for archive and compression formats like ZIP, TAR, gzip etc.), an online EDI translator, a PDF creation plugin with optional mail transfer and many more. It offers a clean end-user web interface "OS4X WebAccess", ENGDATv2/-v3 support which describes the content of the data packages, ENGPART support for the exchange of hierarchical organization data, plugin support to automate steps for data management and much more.
Target audience
OS4X Enterprise is intended for all users who need to support an unlimited complexicity of process chains, supporting all up-to-date requirements for today's data exchange situations out-of-the-box. Plugins for (de-)compression (like ZIP, TAR, gzip etc.), conversion (i.e. character sets), mail notifications, PDF creation and many more help customers to implement their solutions for an easy data exchange. Adding plugins is allowed, too, so customers may implement their own solutions on their own.
Main features
All features of OS4X Core
Additional plugins, like:

Email notification of both sender and/or recipient of jobs.
PDF data transmission sheet, with customizable layout and content.
ZIP (de-)compression.
gzip (de-)compression.
bzip2 (de-)compression.
TAR archive creation and extraction.
Passive file enqueueing (let the partner fetch it; minimize transfer costs).

No plugin limits, which means you are free to add more plugins, develop or let them develop.
And many more ...
With OS4X Enterprise, you also get the possibility to use an online EDI translator, which is fully configurable and highly customizable. Contact us in order to get support for unknown EDI message formats and/or types.